It Is the Herpes
The hand herpes only! Is no from sex!
I love this visit-to-the-doctor anecdote. Helen compares her MD to the bumblebee-suit-wearing Hispanic on The Simpsons, but all I could think of was Dr. Nick Rivera.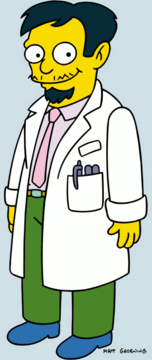 "Hi, everybody!"
"Hi, Dr. Nick!"
I hope she's in better hands than that.
Posted by Ilyka at June 22, 2005 08:27 PM in hell is other people