For Dinner I Am Having Blueberry Pie
$4.99 for a Marie Callender's at the store is not too shabby. It's baking now. I will wash it down with some fine cham-pag-nuh: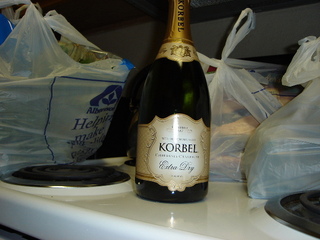 And will you look at this refrigerator? It is so seldom this full of this many fine healthy things that I was forced to photograph it: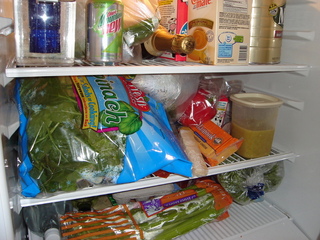 This is going to be a damn good New Year, that's what. I hope yours is too. (I have started on the brandy, so you may expect me to wish you that roughly 63 more times before it hits midnight here in the MST.)
P.S. That container on the middle shelf, far right? It is not Linda Blair's pea soup from The Exorcist; it is green chile sauce. Obviously, it tastes 40,000 times better than it looks, or it wouldn't be there.
Posted by Ilyka at December 31, 2005 09:02 PM in navel gazing