Well, The Pearl IS Boring
I totally hated that book, but I love this post. I wish I had time to say more than that about it, but there, Sheila's probably already said all I was going to anyway.
Enjoy. My stupid homework took longer to do today than it usually does and now I've got to go to work, so this is probably all you get for the day. That's a pity. I had this post I wanted to write about the way we're being taught Spanish, and doesn't that sound fascinating? Yeah, you know, maybe it's just as well I'm out of time here.
UPDATE: While I'm raiding Sheila's site I may as well note that this, also, is fun: Create a word cloud from your weblog.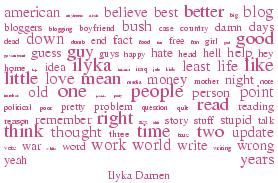 Posted by Ilyka at January 31, 2006 03:51 PM in hell is other people