Junk Food of Patriots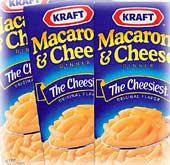 My boyfriend won't eat this stuff. I have to make it when he's not around, which only makes it that much more difficult for me not to consume the entire box in one sitting.
Still, though . . . sometimes I wonder how he can call himself an American.
Posted by Ilyka at December 8, 2004 01:20 AM in were you going to finish that?