Maybe Now I Will Watch That Movie All the Way Through
Raising Arizona: Okay, no, probably not. I'll just enjoy the version below "with Glen as the government and H.I. as the typical American citizen:"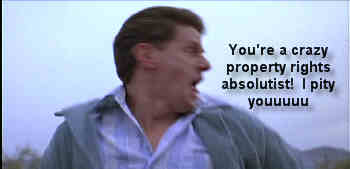 I think I mentioned it once, but I ain't too fond of that movie. Dang if it don't fit the Kelo decision like lubed condom on a horny sailor, though, I tell you what.
Posted by Ilyka at June 25, 2005 10:09 AM in hell is other people