Crawl
I have mentioned that I like Las Cruces a whole lot, yes? Good, good. Because I do have just one complaint: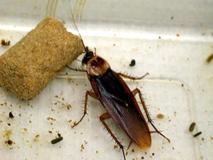 (Pic from the Purdue University Urban Center.)
So I guess in a sense I have not one complaint, but many.
Too many.
The little, and not-so-little, bastards are mostly outside, which is not that much of a problem, except that they've made it known how much they'd really, really like to come inside, and that is a problem. I'm not going so far as to say cockroaches are my Room 101 item, because unfortunately I can imagine fates far worse than being locked into a face-cage full of cockroaches; but would it be fair to say they're up there in the top 10 of things I loathe and fear?
Yes. Yes it would. They don't make me scream and they don't me cry; they make me blisteringly angry and they make my skin crawl. If I see one, dead or alive (though admittedly alive is worse), I will twitch uncontrollably for hours. In fact I'm sitting here right now covered in phantom cockroaches, with every itch making me jump, and if you're sitting there right now thinking "Thanks for sharing, Ilyka" all I can say is YOU'RE WELCOME. If I have to suffer and twitch, you have to suffer and twitch. That's the way things operate around here.
If you are wondering whether I knew about las cucarachas ahead of time, before I moved, the answer is kind of, but no, mostly not. I mean, the boyfriend said his student apartments used to have them pretty bad, but hello? Student apartments. I knew I wouldn't be living in student apartments, so I didn't worry about it.
If you are wondering whether the pests are something of a deal-breaker, i.e., enough to drive me back to Dallas, the answer is a firm but sliiiiiiightly wistful "of course not." For one thing Dallas had, ah, the ones that fly, the kind that wicked lying Southerners try to convince you are not actually cockroaches but merely "water bugs," which, no offense Southerners, is a lie that would not fool a three year-old.
But do I sometimes think back fondly on the militant pest control service my former apartment complex employed, the one that sprayed with such joyful abandon it's a wonder I'm still alive? Do I sometimes wonder how much it would cost to lure them here?
Yes. Yes, I do. Because here is the number of cockroaches I ever had in that apartment over a five-year time span: 0. Before someone brings up the old blog and that post I think I called "Palmetto Ghetto," please recall that the nasty creature was outside. Outside! Not inside.
Anyway, I wish I could say that the number of roaches I have found inside this apartment is 0, but it is not. It is some number greater than 0 and less than 10 and that is as much as I feel like telling you about it.
Here's the thing: I recently enjoyed two weeks 100% cockroach-free, outside AND in, plus one week following that was, say, 92% cockroach-free, during which I only found the occasional belly-up corpse (are they not especially putrid-looking that way? The cockroach wins for Most Disgusting Thorax, definitely) on the patio. The patio, i.e., outside.
But the reason I had those 2-3 weeks of relief is that I am horrible person who deliberately dumps toxins into the helpless, sacred environment. See, I had swept the patio--which you have to do a lot here as it's a very dusty, very windy environment--and then I thought, I know, I'll bleach it too, and then after the water/bleach solution had evaporated I thought, wait, what if I washed off all the pesticides? and then I, ah, sprayed every conceivable surface of my patio with copious amounts of Raid.
So what I'm thinking happened is, the washing of the patio carried off lots of pesticide residue into the ground cover around the patio where it proceeded to kill bugs dead, bugs who would not live even long enough to crawl onto the patio in the first place, hooray. And then, yeah, the part where I applied a fresh layer of poison on top of that, I figure that couldn't have hurt either.
For all my seeming irresponsible disregard for The Environment, however, I'm not actually into infusing the soil with toxins--what happened was more a result of me not being very bright than a result of me being in a murderous rage against cockroaches (though for the record, I generally am in a murderous rage against cockroaches. That is fairly normal for me). I'm just saying, bathing the patio and surrounding areas in pesticides is not my preferred method for eradicating pests; no, not even such foul creatures as cockroaches.
So if anyone has any suggestions for methods that work, I would appreciate hearing them. Before anyone says "Combat traps," though, be advised that I have Combat traps; I'm just trying to figure out a way to deposit them around the patio without making it so that every time I step out for a cigarette I am greeted by a perimeter of Combat traps which in turn have perimeters of cockroach corpses. Also, did I mention that it's windy and dusty here? It is windy and dusty here. If I go the Combat traps route I'm probably going to have to Krazy Glue them to the concrete. You may think I'm kidding, but I'm not. It is that windy and that dusty.
Oh, one other thing: Anyone who says "boric acid repels cockroaches" will be flown to Marin County, allowed a brief reunion with his or her former commune mates over a last meal of soy protein and wheatgrass juice, and shot. Boric acid doesn't do diddly-squat dick, so don't even.
Something that works. Please. Thank you.
UPDATE: This really deserves to be promoted from the comments. Ms. Lauren is much braver than I am, and probably braver than you, too:
Hey, I go to Purdue. I'll bet that pic was from one of my old profs, Tom Turpin. When I had to take his class ("Bugs: Friend or Foe?" Foe!) I had to bring home a madagascar hissing cockraoch and keep it alive IN MY APARTMENT for the entire semester. Blugh. I named him Max.

The worst part is that whenever I turned on music, Max would go crazy. He lived in a piece of Tupperware and would crawl all over the thing hissing and cracking up against the side of plastic.
So maybe if I put a little boom box on the patio . . . ? They could listen to
Gwen
.
UPDATE II: I love Geek Empire because dude's got a way with imagery. Of course, given that the subject is cockroaches, some of that imagery's pretty disgusting; but he backs me up on the uselessness of boric acid against a true infestation, and he's definitely had 'em worse than I do:
This is nasty: one of their primary entry points into our apartment was through a hold behind a broken tile at the far end of the bathtub. This meant that, every once in a while, you'd be taking a shower, the water backing up a few inches in the bottom of the tub, and all of a sudden a giant cockroach appears out of nowhere and does a slide down your bathtub like he's at a fucking waterpark and is swimming around in the water, trying to grab onto something not porcelain, like, say, your feet.
Gaaaaahhh!
But do
read the whole thing
. He's got a Martha Stewart reference in there that just slayed me, and when you can grind fresh material out of a subject as stale as Martha, that's impressive.
My first apartment was like that. I'd tell you all about it but I'd like to be able to sleep tonight without nightmares. For the people who think I'm freaking out over "baby" cockroaches, though--you're right, but you're wrong. These I'm waging war against now are mostly the American cockroach, just under 1" long, exactly like the picture above. In my first apartment, though, my roommate and I had the Yew-nited Nations of cockroaches. We had all kinds, but mainly little German browns and the occasional--but not seldom enough!--big, black, 2-3 inch ones. Those nasty things don't slow down with their size, either.
I didn't have a car at the time; every day after work I'd bike the four miles home, and sometimes by the end of that ride I'd really have to pee. Well, I dashed into the place one evening under just those circumstances and that's how I learned to, ah, look before I leap, so to speak. Because there is nothing like the sudden realization that you're crouching with your nethers exposed maybe all of six inches away from a cockroach the size of a damn hamster. Nothing like shrieking and racing out of the bathroom only to discover your roommate's just got home himself, either.
Before you've pulled up your pants.
Posted by Ilyka at August 15, 2005 12:04 PM in navel gazing | TrackBack