I Have a Confession to Make
Sometimes my brothers and sisters in Christ annoy me.
A lot.
I knew I'd have occasion at some point to lift this picture from Zendo Deb. I just didn't think it'd be this soon.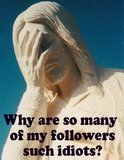 Here's a big favor I think we could all do for the Lord: Quit arguing that Intelligent Design is science.
It isn't.
You can't convince people it is. Because it isn't.
And, bonus, it bolsters the working theory some people have that Christians are irretrievably stupid. This does not seem to me much of a strategy for doing our part to help Him gather a people unto Himself from nation to nation, you know?
The funny thing is, I think people who agitate to have Intelligent Design taught alongside evolution think they're doing just that--helping to spread the Word. I have the same reaction to this as I do to people who think we should tax the daylights out of everybody in order to aid the poor:
What are YOU doing to help the poor? No--I mean you personally?
Me, I'm not doing as much as I need to. But I'm also not out there arguing that the government should be able to take more of your money, in order to provide all that aid I'm not giving myself. I may be sinful, but by gum, at least I'm consistent, and I'm not compounding my sin by stealing from you to cover for it.
That's why I don't like people trying to shove ID into science curricula. It's a cop-out. It's a dodge to relieve oneself of the burden of setting a good Christian example, by attempting to institutionalize the conversion process.
And if you're worried that learning about evolution might lead someone away from God, I'd like to know what kind of faith that person had to begin with, if it's shaken so easily.
I think sometimes people forget that faith is not supposed to be easy. It's supposed to be hard. I have days I look longingly at my copy of Why I Am Not a Christian and think, "Oh Bertrand, Bertrand, why ever did I forsake thee?" Then I remember that Russell was a miserable, cranky old socialist, and I'm okay again.
I guess I'm more philosophically aligned on this issue with a commenter at Ace's named Michael:
Despite the efforts of Augustine, C.S. Lewis, and others I suppose, I don't think anyone has accepted Christianity on the basis of a rational "argument" in the classical sense.

Typically, atheists want to "debate" religion, as if the outcome depends on who has the best rational "argument." Their (rather naive) assumption is that left-brain-dominant linear thinking is the only way of "knowing" the truth, because that is all they know.

Unfortunately, many stupid Christians attempt to engage them at this level. It doesn't work.
Right. And if God could be reasoned into easily-verified existence, who'd need faith?
Anyway, people for whom this subject is something of a passion (no pun intended, I swear) may enjoy the discussion here. Be warned: Lively, but long.
UPDATE: I neglected to mention that my husband* totally kicks ass in that thread. I insist he put his feet up and allow me to fetch him a tasty beverage this minute. That's his only flaw, you know: He's so driven, he sometimes works too hard.
*You remember the wedding, of course.
Posted by Ilyka at December 27, 2005 11:43 PM in hell is other people