Sorry, Been Busy
I seem to have developed a fondness for patting trolls on their pointy little heads. I know you're shocked.
Well, it makes them feel appreciated. And, damnit, shouldn't everyone get to feel appreciated a few times in life?
Besides, it still beats the tar out of guest-blogging.
UPDATE: And NOTHING beats a gift from Hubris. Behold the ultimate misogynist's law school application. You are so definitely going to want to click for bigger: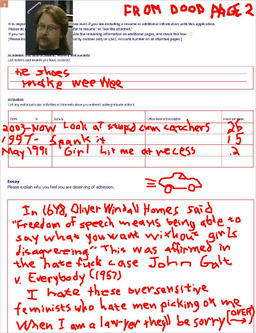 Note: I advised Hubris to offer this to Feministe, after he was unable to upload it here using a guest login. If Jill or Lauren end up posting it, I'll take this one down. But in the meantime? It's just too good.
AND FINALLY: On a more serious note, possibly the best summary I've seen of the whole thing:
. . . unfortunately, not all little boys do mature. Some of them just get bigger. And they're sitll bullies, but now they're in bigger bodies, and with a viciousness that's been honed over the years. Jill of Feministe encountered such men, at an online board frequented by fellow students at her law school. Sick stuff - guys posting for months to threads about her - comments about her appearance (because, you know, feminists have got to be ugly, even when they're young and strikingly good-looking), "Jill sighting" posts and mentions of "tag teaming" her around campus, and some people found Jill threads that mentioned rape and a desire to "hate fuck" her. Creepy stuff.
I know admonitions to "read the whole thing" grow tiresome online, but really: Read the whole thing.
Posted by Ilyka at January 4, 2006 06:43 PM in navel gazing