Sympathy for the Desk and Miscellaneous Peeve
Andrea loathes her behemoth of a desk. I loathe my desk also: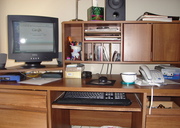 What you cannot see in the photo: That this desk is put together entirely with dowels and wood glue, is 100% pressboard, and weighs roughly 37 tons. In other words, it's neither easy to move nor to dismantle. I need a team of hulking woodsmen to come over and chop it for kindling. That's what I need.
You also can't see the wood crate into which I piled most of the detritus that covered the desk up until 2 weeks ago, when I broke down and dusted this place.
You can, however, see some of Moebius Stripper's awesome pottery to the right of the monitor, holding about 64 writing implements, 17 of which may actually write stuff when you need them to. (It is not that she deliberately fashions pre-chipped pottery, by the way--for the damaged lip of the pencil holder we can thank, I think, the U.S. Postal Service. Have you seen the way they just chuck things around?)
Also, the boyfriend photographed the highly-reluctant-to-be-photographed Sally again. I think he may have been mucking with the camera settings, because it's a little fuzzy. The important thing is that the cat is still furious with him over it.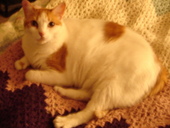 And finally, an idle question for you: Do you get annoyed when someone makes the argument that because two things are "on a continuum" with each other, their differences are of so little import as to be easily dismissed entirely?* I can't be the only person annoyed by this, especially as the "on a continuum with" argument is basically non-mathese for "two points on the same line" and come on, nobody really understands what to do with those now, do they?
What I mean is, "gentle spring showers" are on a continuum with "Hurricane Katrina." But would you ever say, "Light rain, Hurricane Katrina, what's the diff?" Of course you wouldn't. Yet I read a sentence just today by someone I respect enormously, and that sentence was, "Bush, Hamas, what's the diff?" (I can't link it because it's since been deleted--I would like to say "because its author realized the asininity of that sentence," but in fact I don't know the real reason for it.) Anyway, this is why every time I get close to telling the Republican Party to just go shtup itself with a fistful of born-again Christian tracts I, well, don't. Because there is no more room for me on the left than there is on the right.
I can only take so much of this continuum business before I lose all patience. Listen to me: It is not enough that things be on a continuum with each other. What matters a bit more is the distance between them on that continuum. Otherwise you're stocking up on drinking water and cleaning out the freezer every time it looks like rain.
UPDATE: The post I cited has returned. I'd particularly like to know what Meryl thinks of this:
What's creepy is that Hamas isn't philosophically all that different from the Bush administration, in terms of both godbaggery and terrorosity. Godbags-in-chief manipulate their peasantry to accept oppression by rewarding unenlightened fundamentalism and punishing iconoclasm. Bush, Hamas, what's the diff? Godbags are godbags. It's only a matter of degree. The US oppresses and maims and kills more people in a day than Hamas has even dreamed of oppressing and maiming and killing.
That aside, when I said I respect the weblog author enormously, I wasn't kidding; she's a terrific writer even if I don't get down with 100% of her opinions. So don't head over there and be nasty--not that I really think you would, but you know how it is: If I don't say anything, and someone does go leave a nasty comment there, with my site as the referrer, I'm just gonna feel all kinds of crummy about it.
UPDATE II: Now the Israeli government has been placed on the continuum with Hamas. You know something? Whatthefuckever. This is a useful reminder to me (not that I ever really forget it): Just because someone knows something about some things doesn't mean they're competent to opine on everything. It's why you don't see much macroeconomics discussion on The Superficial, nor much fashion advice in the pages Scientific American.
Anyway, you see why I usually stick to telling you dumb stories about my dumb days. I'm only trying to write what I know here.
*Please note: There are times the continuum argument works, I think--most often when you are not using it to imply two issues require exactly the same amount of outrage to be leveled against them. I don't mind, for example, feminists noting that both the burqa and the bikini qualify as oppressive clothing, designed to confer second-class citizen status on their wearers, provided of course they keep in mind that no woman in a democracy is ever required to put on a bikini, whereas the burqa has not always been so optional.
I am not always against noting that two things are on a continuum, but it is important to me that they be within, say, lunching distance of each other. If instead you have to drive several days to get from one thing to the other, if you're attempting to go from spring showers to Category 5 hurricanes in the blink of an eye, then, no, I'm not really a fan of the continuum. Sorry.
Posted by Ilyka at January 29, 2006 01:06 PM in i don't know you tell me