Two Sorry Pictures
One of the ginormous diabetic cat for my brother's girlfriend (and because it's Friday):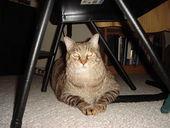 No time right now to correct his bad case of demon-eyes, so that one's as is.
I wanted a good shot of the Organ Mountains today because when it's overcast here, they look black, and they're dead ringers for Mordor, honestly. But that shot needs to be taken earlier in the day--this one was done about 5:00 p.m.--and I've found you only really get the Mordor effect when it's not actually raining in the mountains, as it unfortunately was today. The contrast isn't what I'd like it to be on this shot. Well, no matter. Someday I'll do this one up right: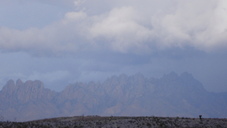 Have a great weekend, everybody!
Posted by Ilyka at February 24, 2006 09:56 PM in i don't know you tell me