The Castrating Strawfeminist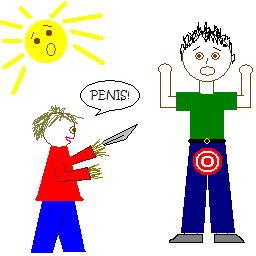 Even the sun is shocked. And no, I do not know how she can hold the knife.

If this epidemic of angry, misandric women roaming the streets with surgical scissors, severing the genitalia of any men they encounter along the way, doesn't stop soon, I don't know what we're going to do. I don't know what their problems are. Can't they just accept that men and women are different? Why do they have to be so hell-bent on making us all the same? Don't they realize how bad that would be, if we were all the same? I guess they're so blinded by man-hatred and penis-envy that they just--
--you know, I can't continue this. "Why do you hate men?" comes up so regularly that even broaching "Why do you hate men?" satirically wears me right out.
Of course, the question is not always put that directly. It has other guises. Whether it's asking why feminists hate men, or asking whether feminists are aware that men and women are different (answer: your average toddler has already figured this out, so whaddya think?), or reminding feminists that assholes are equally prevalent among both sexes (both! Not just men! Quit picking on men!), or simply charging feminists with emasculation when they do that mean thing that they do, you know, that mean thing with the disagreement and the opinion-having and worst of all, the opinion-expressing?--whether it's (a), (b), (c), or (d) all of the above, the question being asked is always, "Can I beat you with this castrating strawfeminist for a few minutes, rather than addressing what you actually said?"
And, no. No, you may not. She itches.
The problem with the castrating strawfeminist, at least for me personally, is that I am always so tempted to engage her. "NO!" I find myself wanting to say, "No, I do not hate men! Ask my male relatives who are so dear to me! Ask my boyfriend! Hey, I was engaged once, did you know that? I am not a bitter, lonely old maid seeking revenge on the penis-bearing people of the world. It's not true that I hate men! I have had lots of heterosexual intercourse! But not too much! Just the right amount. I--"
But, see, I can't do that, because if I respond defensively to the castrating strawfeminist, I have permitted whoever's been beating me with her to turn the debate from whatever it WAS about, into a debate on whether or not I hate men, which is just a hop-skip-and-jump away from being a debate on whether or not I have stopped beating my boyfriend.
I can't prove to anybody that I don't hate men, and frankly, I resent that anyone would think I should have to. As tempting as it is for me to respond, "Listen, I don't want your testicles! You can keep them! They're yours!", I can't do it, because it's a dead end, a fool's game. We are only going to wind up with me citing "evidence" that I don't want to chop anyone's balls off while my opponent digs in his heels (or her heels, because I get the castrating strawfeminist from women just as often) with objections like, "Well, that's what you say, but it sure feels like you want to emasculate me (emasculate my sons/brothers/husband)." Finally, having worn me out with a few rounds of this, my opponent will kindly suggest that perhaps my working to improve my relationships with the men in my life (by being "nicer") might fix this obsessive/compulsive problem I clearly have with needing to perform orchiectomies.
Most, if not all, of the rationale for the castrating strawfeminist's continued popularity is due to the misconception that there's some great equality pie out there, and if women have too many slices of it, there will be nothing left for men. It's a point I've made before in various comment threads, but Lauren reminded me of it again in her response to TallDave in this post (see comments). There are specific situations which are going to be zero-sum; for example, if there's a promotion available in a company and a woman is awarded it (or rather a woman earns it, one hopes), then yes, the men in competition with her will have lost a potential gain to a woman. On the other hand, if a woman starts her own business she not only doesn't take anything away from men--and it's interesting that even in the situation with the promotion, we so often view a woman receiving one as "taking away" something from men; was it theirs to begin with, theirs by default?--but she may well give things to men. Jobs, for instance. Contracts. Benefits. Women do not advance solely at the expense of men.
There is no equality pie. It's funny how often a fiscal conservative will readily agree that there's no wealth pie, but turn the subject to civil rights and suddenly he's grousing about all the "special interest groups" who want "special treatment"--i.e., more slices o'rights than they deserve.
You see a lot of this with the recent "men's right to choose" nonsense, in which the argument seems to be that it is discriminatory against men to treat them as creatures incapable of pregnancy (which, last I checked, they are), and that cruel nature has deprived them of the right to choose--or, more accurately, that nature has deprived them of having exactly as many ways to choose as women do. That mean old bitch nature has also deprived them of the risks of pregnancy, but no matter; the point is, it isn't fair! Quit hogging the damn pie!
If we could quit treating autonomy like something to be grudgingly parceled out by the powers that be (which do tend to be men, have you noticed?) to women, we could put the sharp instruments away entirely. No more pie-partitioning, no more castration.
Well, maybe a lit-
--No.
Posted by Ilyka at March 23, 2006 12:19 PM in blog against the strawfeminist