Q & A
Okay, so far just one person has asked me about the upcoming move, but let's pretend bunches and bunches of you asked so that I only have to run through this once:
Q: Why are you freaking out about moving? You live in an apartment. You don't even have kids! Boy, just wait 'til you have children; then you'll know true moving frustration, let me tell you. Why I remember this one time, my Jeremy, he--
A: Uh, thanks. First of all, I am freaking out because I am prone to anxiety and the freaking out, it's just what I do.
Second of all, I am freaking out because I'm not moving down the street. I'm not moving across town. I'm moving from here--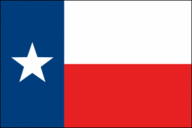 --to there: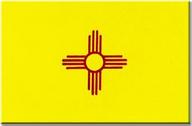 Q: Whose flag is that?
A: New Mexico's.
Q: New Mexico . . . okay, is that--

A: Yes, that's one of ours, if that's what you were wondering.
Q: I knew it wasn't Canadian, but the other--you know, since I live up north, I wasn't exactly sure--
A: No. Definitely not Canadian.
Q: What brought this on?
A: A happy confluence of opportunity and desperation.
Q: No, I mean, why are you moving to New Mexico?
A: Because it's home to the world's largest enchilada, fool, and I'm starving.
Q: Oh COME on--
A: Also, it was the first state to declare an official state cookie.
Q: I know you're a great greedy whale of a woman and all, but this cannot seriously be all about food.
A: YOU eat wimpy Dallas salsa for 11 years and tell me food doesn't enter into it.
Q: You're not going to tell us why you're moving, are you?
A: Not entirely, no, but I did I mention New Mexico is home to the Hatch Chile Fest? My September is going to be biz-ay.
Q: Can you at least tell us where in New Mexico you're going?
A: Las Cruces! Home of the world's largest--
Q: --enchilada, yes.
A: Right.
Q: Hey, that last link says Las Cruces is a top retiree destination. Does this mean you've finally realized your dream of living among the seniors?
A: Either that, or all this time you've been reading a blog by an elderly woman and just never noticed. That reminds me, I've got to get these rollers out of my hair before Matlock comes on. It's a two-parter!
So that's why I'm freaking out: Because if heaven forbid I forget something, I can't just DRIVE BACK 700 MILES AND FETCH IT now, can I?
Posted by Ilyka at June 2, 2005 08:30 AM in navel gazing