For the Animal Lovers
Two things: One, I missed Helen's birthday. I am sorry, Helen; I am a terrible person. Many happy returns, belatedly.
Two, and more important, Helen is thinking of having a fundraiser for the Royal Society for the Prevention of Cruelty to Animals. She's maybe planning to sell t-shirts emblazoned with an image of the lovable puppy she's adopted from that organization. Personally, I hope she chooses this one: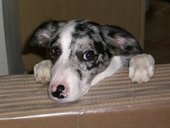 You can lend your support or just read more about it here.
Posted by Ilyka at April 6, 2006 01:06 AM in chariblogging