No, I Don't Ever Really Get Tired of Them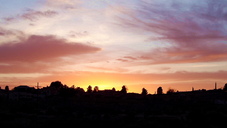 Besides, either it's this, or I find some way to take a photo of all the DUST that's been blowing around for 'bout the past month now.
Do you think that I kid you about the dust? I assure you I do not kid about the dust.
UPDATE: Luckily, dust-encrusted nerves can always be soothed through the magic of roasted red peppers marinated in vinaigrette with Roma tomatoes and garlic.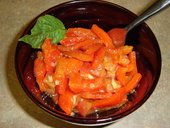 I do not, of course, eat them as pictured above. I have only arranged them like that for your benefit. Normally I consume them straight from the Tupperware, because I am that low-rent, yes, but also because they are just that good.
Posted by Ilyka at April 6, 2006 05:43 PM in snap